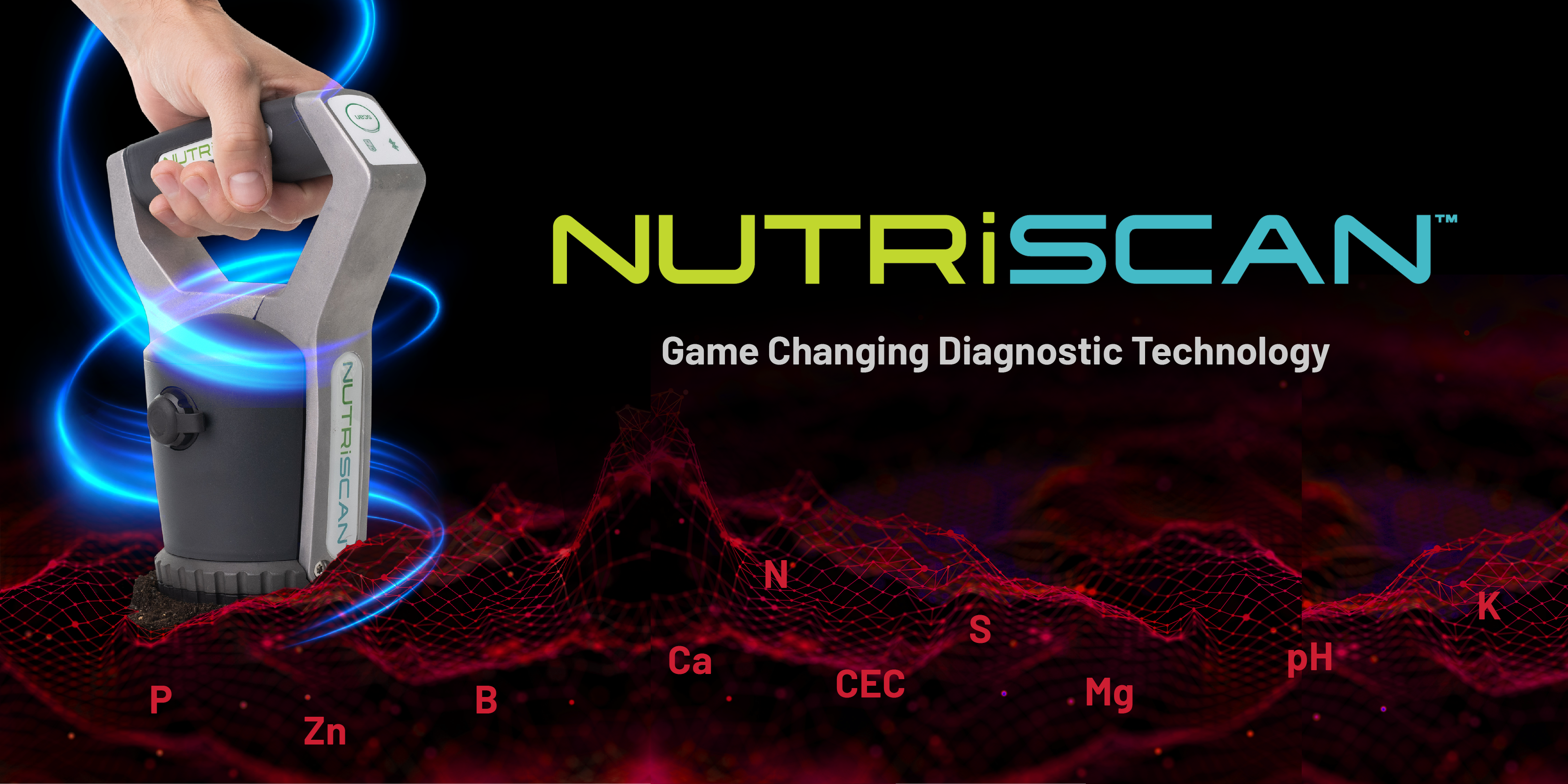 Soil testing has never been this easy!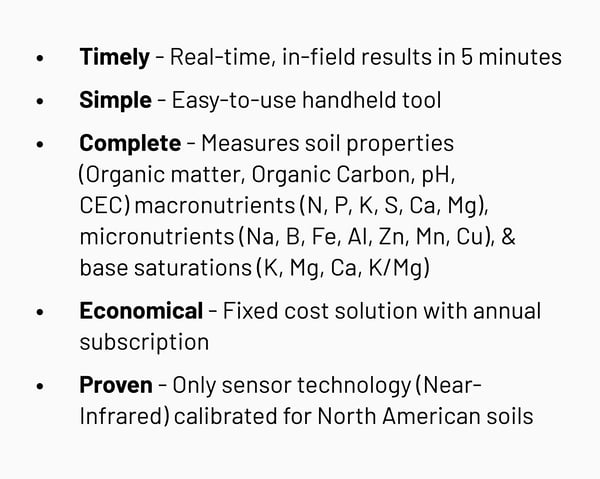 How it works:
Data Recommendations to your phone in just 5 minutes

Connect
Upload data via the app

Analyze
Let the database do the magic
Market Proven
NutriScan fertility recommendations are based upon prediction models that have been created through an extensive calibration process using more than 19,000 samples world wide.




NutriScan has been calibrated from over 1400 Western Canadian soil samples being collected and run through the Gold Standard Lab (GSL) in the Netherlands.




With the introduction of AI and Machine Learning the prediction modelling is constantly evolving to improve accuracy.




Only real-time scanner with WEPAL certification (Wageningen Evaluating Programmes for Analytical Laboratories).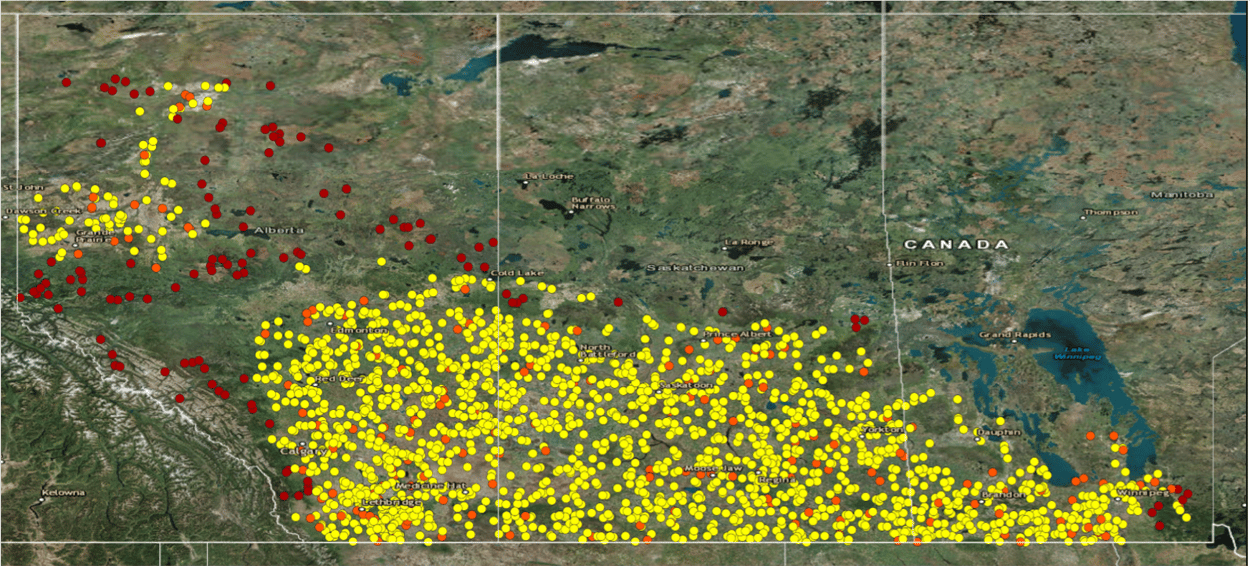 Western Canada map showcasing the geographically dispersed soil samples utilized to calibrate the NutriScan Unit (2019-2020)
Soil parameters NutriScan measures:
This is all you need:
A charged Scanner
A smartphone with Android 5.0 or higher or an iPhone 6 or higher
The NutriScan App installed
A mobile internet connection
Our nutrient scanner is delivered in a durable case as a complete set. You simply download the app on your smartphone and start scanning!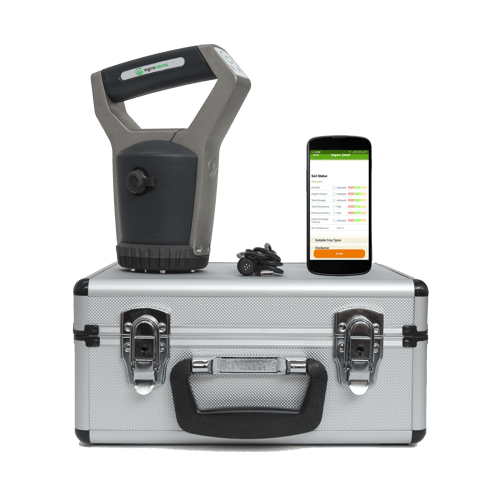 NutriScan Reporting:
Reports summarizing the soil fertility status and the fertility recommendations can be viewed on the NutriScan app using a compatible smart phone, or online through the NutriScan portal as a PDF or downloaded into Excel.
Each report includes:
Soil fertility status for soil characteristics, macro and micronutrients

Organic carbon which can be used to measure carbon sequestration

Nutrient recommendations for target yield

Summary of the field and crop details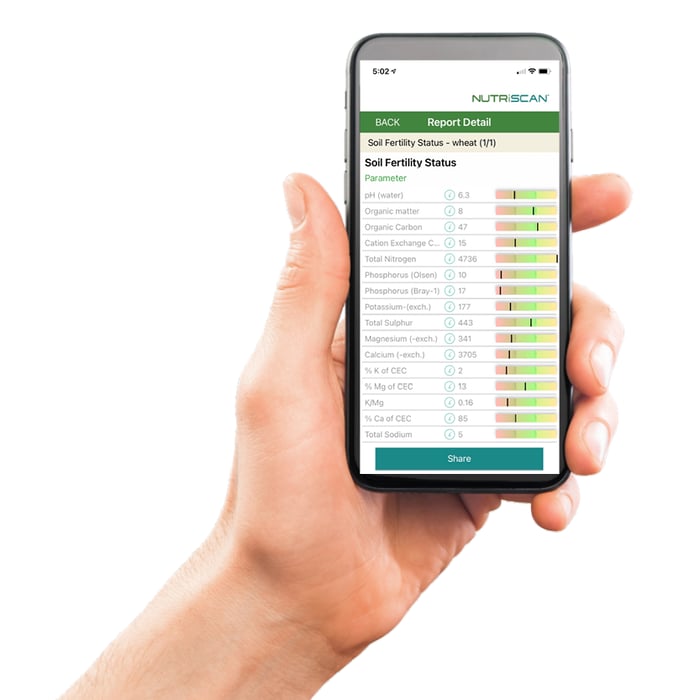 More Resources:
Want to learn more about NutriScan? Unlock the NutriScan webinar recording today to learn:
How the technology works
Elements calibrated - general soil properties, macronutrients, micronutrients and base saturations
Validation results to date
Review the NutriScan app and reports
Pricing of units and subscription options


NutriScan Pricing:
One of the biggest benefits of NutriScan is the fact that it's a fixed cost solution, with an annual subscription fee. Once you purchase the scanner, the number of samples you can complete is unlimited and has no extra cost in doing it.
To learn more, please fill out this form and we will provide you details on the pricing options available.
Technical Specifications: