Microbial Technology for Sustainable Ag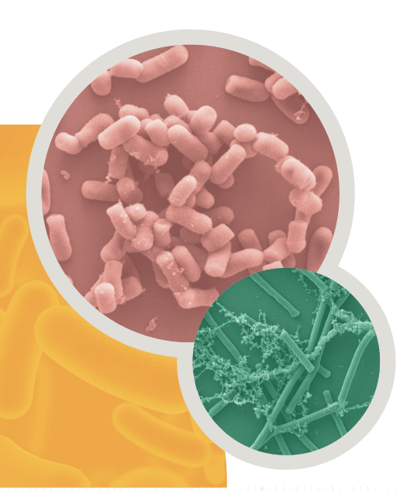 Microbial Technology for Sustainable Ag
Synergro M2 is derived from a consortium of microbes uniquely co-fermented to produce a rich array of metabolites to improve the signalling capabilities of plants and liberate soil nutrients.
Synergro M

2

activates the root rhizosphere, delivering powerful metabolites to the area where the plant roots meet the soil.
Increases rooting and vegetative plant growth
Reduces impacts of abiotic and biotic stress
Improves crop performance - drives yield and enhances quality
Registered by CFIA

Safe and stable when premixed with fertilizers



Our proprietary fermentation process converts microbes into beneficial metabolites.
Key Metabolites in Synergro M2
Through extensive research and analysis, we identified over 1,700 different metabolites produced by the Synergro consortium. We have consolidated these components into key groups that mimic the compounds a plant naturally produces and utilizes to optimize photosynthesis, plant health and yield.
Component

Function
Component

Function

Organic Acid

Make phosphorus more soluble and improve mobility of nutrients such as manganese, copper, zinc, iron, calcium and magnesium

Improve glomalin production, associated with a healthy rhizosphere

Phenolic Acids

Attract beneficial bacteria associated with a healthy root rhizosphere

Mediate plant stress responses

Support lignin accumulation and salinity tolerance

Amino Acids

Improve complexing of key nutrients making them more available for uptake and utilization by the plant

Improve antioxidant defenses of plants and alleviate salt stress

Improve flowering, seed set and development

Flavonoids

Facilitate colonization by N-fixing bacteria

Influence pollen tube development

Regulate plant stress responses

Polyamines

Reduce the impact of drought stress

Priming effects that provide stress-resistance

Phosphatase Enzyme

Releases phosphorus from organic matter making it plant available

Helps regulate osmotic processes in the plant

Improves root development
Proven Agronomic Performance
Agronomic trials demonstrate that Synergro M2 can be applied 3 different ways (seed, soil or foliar) to show an advantageous and consistent agronomic response.
SOIL:

Replicated trials from 2019 showed a strong rate response curve for both canola (below) and wheat crops when combined with a starter fertilizer at the recommended soil rate of 250 mL/ac.

Foliar:

Grower-replicated strip trials in Manitoba in 2019 on oats and wheat showed a consistent improvement in yield with Synergro M2 (125 mL/ac) at herbicide timing.

Synergro M2 was seed-applied at 1 mL/Kg to wheat
Trials were conducted at 3 PNW locations by a third party research company

Small plot replicated trial conducted in Portage, MB in 2019.
Arise (starter liquid Phosphorus) was applied at 3 gal/ac in furrow
Synergro M2was combined with Arise

Synergro M2 applied at 125 ml/ac in a tank mix with NRG P (applied at 1 L/ac)
Synergro M2 and NRG P applied with the existing herbicide application
For a seed treatment, use Synergro M2 in combination with a nutrient dressing and a crop protection product.

For soil applications, use Synergro M2 in combination with a starter fertilizer.

For foliar applications, use Synergro M2 in combination with a nutrient(s).
Synergro M2 is compatible with most fertilizers and commonly used pesticides. Conduct a jar test to determine product compatibility. Contact your ATP representative with any compatibility questions.
| | |
| --- | --- |
| Rate | Timing |
| 1 mL/Kg | Seed |
| 250 mL/ac | Soil |
| 125 mL/ac | Foliar |
To view the Synergro M2 SDS and Product Labels see links below.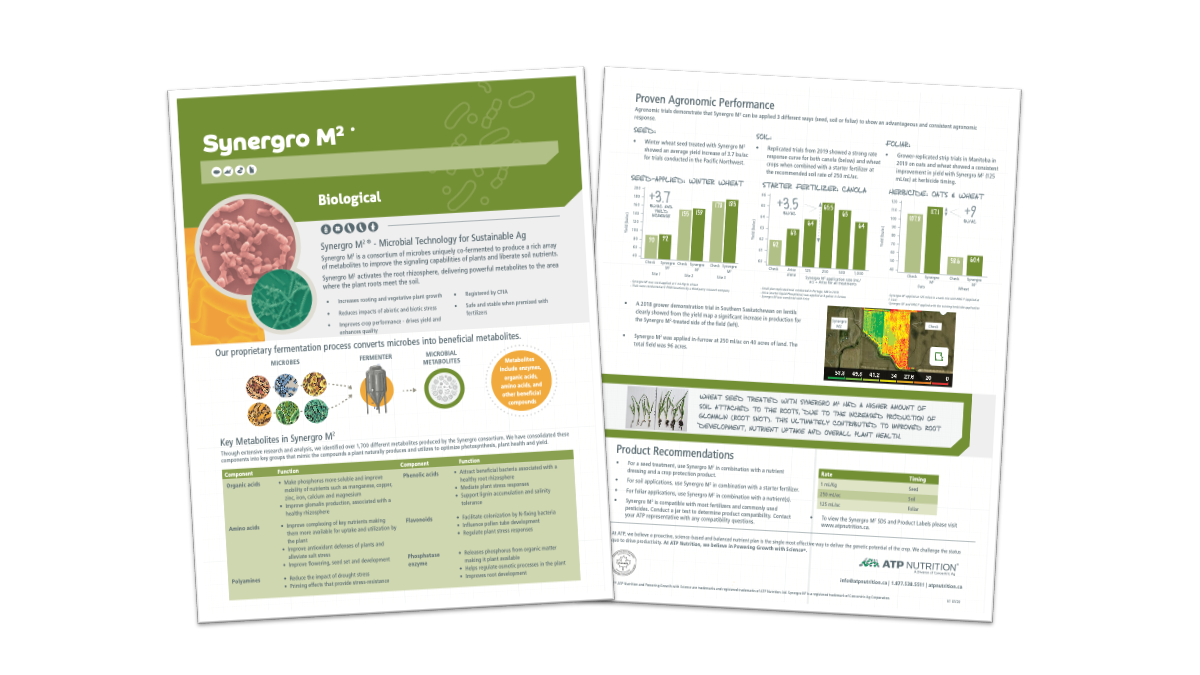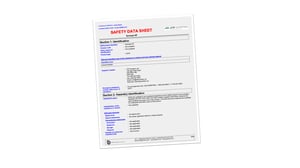 Learn more about Biological Biostimulants!
Join our ATP Academy and take our course on Biologicals to learn more about the benefits of microbes and their metabolites to plant and soil health.
Want to learn more about Synergro M2 contact us today.
Contact us:
To find out where you can purchase Synergro M2, contact us today or find your local rep.
ATP Nutrition Ltd.
190 Agri Park Road
Oak Bluff, MB
204-287-2023 or toll free 877-538-5511